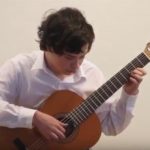 Congratulations to Jean-Victor Paris-Laflamme, 14 years old!
During the finals of the national Canadian Music Competition that was held June 27th in Studio Assuraction Pepin Assurance at Desjardins arts house in Drummondville, Jean-Victor obtained a grade of 90%, and obtained a gold medal (1st place)!. He presented Serenade for Guitar and Strings of Arnold Malcolm, in an arrangement for guitar and piano. The pianist was Esther Bureau.
Jean-Victor is a student in the class of Daniel Langlois. Congratulations Jean-Victor!
---